Is Pamukkaly Gyrocopter Safe?
I would say the Gyrocopter in Pamukkale is the safest attraction of all time. The new generation of professionally designed and constructed gyrocopters is inherently safer than fixed-wing and helicopter aircraft of similar size. Gyros cannot stall or spin and thus are inherently safer than fixed-wing aircraft. A gyrocopter cannot increase height during a hover like a helicopter therefore is not able to take off and land vertically but when it is in the air, the gyrocopter can hover This, together with a very short take-off and landing roll, make the Gyrocopter really easy to fly. It has to be noted that the gyrocopter that is used in this activity meets all the safety requirements and has the approval of civil aviation, which makes this activity absolutely safe. In fact, gyrocopter has many advantages in contrast to helicopters or planes. Firstly, the gyrocopter is still able to fly even in case of engine disconnection. Due to the abovementioned, it can also be characterized as a parasailing activity as the rotating blades continue to rotate irrespective of the engine. Secondly, gyrocopters can fly at a very low airspeed such as 25 knots which makes them ideal for those who wish to enjoy the views. Finally, gyrocopters are all less affected by turbulence, a feature that provides an extra sense of comfort to both, the pilot and the passenger.
There are 2 different Pamukkale Gyrocopter prices:
150 USD or € for a flight of 15 min above Pamukkale
90 USD or € for a flight between 8 and 10 min above Pamukkale
The Gyrocopter in Pamukkale never had light incidents or fatal accidents.
The pilots do have many years of flying experience and are paying close attention to the weather and daily hour weather reports. All pilots have to be licensed and pass regular flight checks during the year. This total makes us say that the Gyrocopter Experience in Pamukkale is totally Safe for doing. They are even considered safer than a walk on wet travertines and surfaces in Pamukkale.
Can I fly with my entire family during the Pamukkale Gyrocopter experience?
No, the Pamukkale Gyrocopter offers at the moment just a 2-seater model but we do have several gyrocopters in use that offer the possibility to fly all at the same time.
Will I have fear of heights or Vertigo during the Pamukkale Gyrocopter?
No, because there is no physical link between the Gyrocopter and the ground, there will be no feeling of dizziness or vertigo. In all flying vehicles, vertigo does not exist. The experience you will have during your flight will give you so much excitement that you will forget you have vertigo problems.
Does the Gyrocopter just fly above Pamukkale?
Not at all! The gyrocopter can fly, take off, and land everywhere. So visiting other places such as Ephesus, Salda Lake, Aphrodisias, Izmir and Kusadasi are possible places to visit. At Moonstar Tour, we can help you out for each destination. Even Denizli airport transfer from Pamukkale to Denizli Airport, Antalya Airport, or Izmir Airport is possible by Gyrocopter.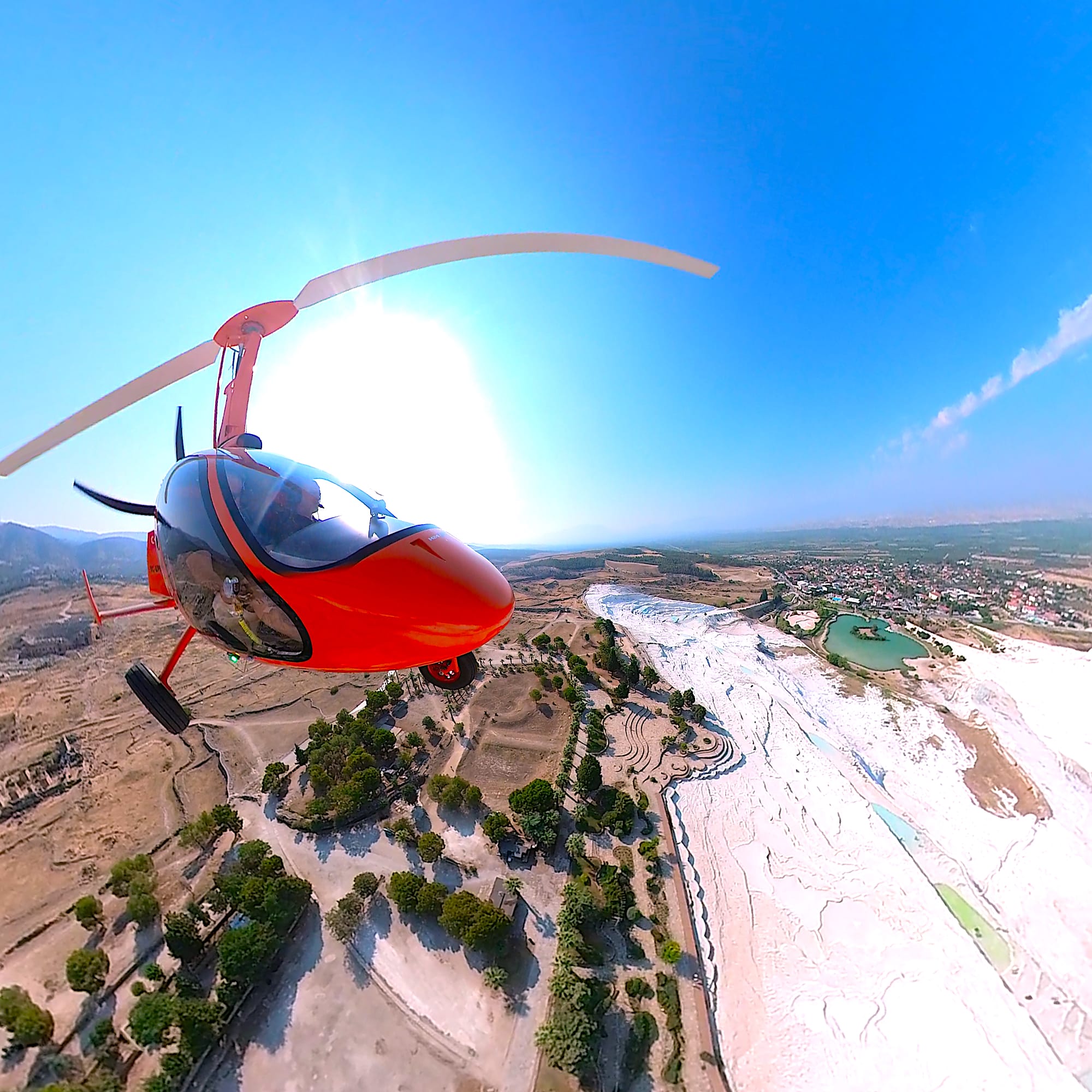 .