You can book, for special occasions such as team building for companies, engagement demands, big family or friends groups the entire balloon for yourself. Because it is such popular, the balloons will fill up months in advance, consider early booking, and plan many weeks or days before your arrival so you are guaranteed a spot.
The price today in 2022 depends on which company you fly with, and the people capacity in the basket, A Hot Air Balloon Pamukkale ride can cost in the range between $120 and $150 per person. The cost depends also on the duration of the flight, the moment of the day, and whether is peak season or not. Usually, the duration is a 1-hour flight, including a transfer from and to your hotel, a celebration drink, and your certificate of participation.
Is Hot Air Balloon in Pamukkale Safe?
Hot air balloons can be a great experience and safe. Many people worry about hot air balloons because you are essentially flying around in a basket with a parachute attached. Of course, this can be a little nerve-wracking for some, but it's important to know how dangerous this is as well. Before you head out for your next hot air balloon ride, it's good to know how safe hot air balloons are.
Hot air balloons are one of the safest ways to travel in the air and In fact, hot air balloons are safer than airplanes and helicopters.
Pamukkale is from the beginning of their flights accident-free from hot air balloon crashes and accidents. Although any loss of life is tragic, this is a much lower number than you will see in other types of air travel or recreational air activities. If you are nervous about flying in a hot air balloon, here are a few things to consider when deciding to take a flight.
Why fly above Pamukkale by Hot Air Balloon?
You should fly a Hot Air Balloon in Pamukkale because it is an excellent way to spend time with family, friends, or even co-workers. It is an experience that brings you closer to yourself and also to others. If you want to enjoy this unique adventure in Pamukkale or all your senses, and the people to share it, then it is time to book your flight now with Moonstar Tour! We are waiting for you.
What is the best time of the year you fly a Hot Air Balloon?
The best time of year to go hot air ballooning in Pamukkale is from April to November as the most favorable weather conditions are during these months. Because of strong winds most of the flight cancellations typically take place from December to March, but due to the better weather conditions, Pamukkale offers more flights during the winter with fewer cancellations.
What is included and the tour Plan for Pamukkale Hot Air Balloon?
1-hour flight, including a transfer from and to your hotel, a celebration drink, and your certificate of participation. You will fly over the amazing white terraces and the remains of the ancient city of Hierapolis. You will see Denizli, the Meander Valley, and Karahayit with the red thermal pools, and the fields covered with olive trees.
What will we expect during the Pamukkale Hot Air Balloon flight?
Flying Hot Air balloons in Pamukkale is an unrepeatable experience. And surely if you do it again, it will never be the same feeling. Being in the sky, like a bird, above the clouds, in silence, enjoying the landscape and the moment is something that cannot be explained by words. It must be experienced in the first person. From preparing for the flight until you disembark you will enjoy that experience.
Will I have fear of heights or Vertigo during the Pamukkale Hot Air Balloon?
No, because there is no physical link between the basket from the Hot Air Balloon and the ground, there will be no feeling of dizziness or vertigo. In Hot Air Ballooning vertigo does not exist. If you have ever felt vertigo or you are afraid of heights, balloon flight is the best way to deal with that situation. The peace and freedom you will have in your balloon will allow you to get used to the surroundings that will provide you with serenity throughout the journey.
Can I make my Marriage proposal during my flight?
Yes, you can! Have you thought about asking for marriage to that person with whom you want to share the rest of your life? It would be one of the most romantic and unforgettable moments in your life. Please inform Moonstar Tour when you plan that, and we will help you to make it more special.
Can I carry luggage or a backpack during the Pamukkale Hot Air Balloon?
No, it isn't allowed to carry your luggage with you. The reason is simple, the basket is always full with the maximum of passengers. There is simply no room for extra backpacks or luggage. Also for safety during the flight for yourself and other passengers. You can leave your luggage at your hotel or the agencies where you did book your flight.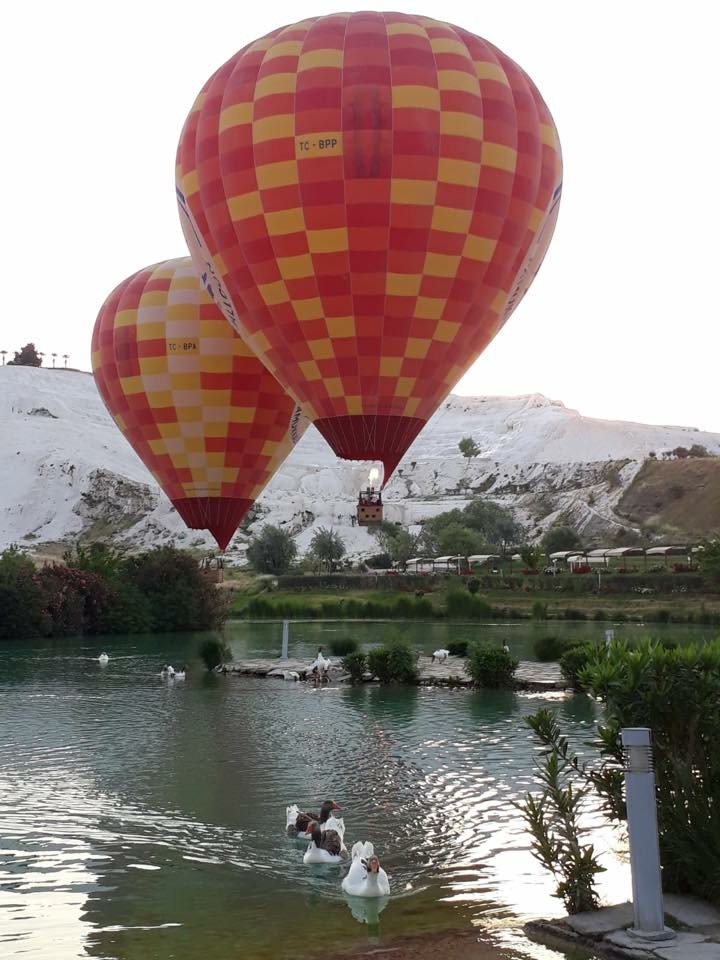 Let's check our Pamukkale Hot Air Balloon Package.