Bolu is best known for her seven picturesque lakes, forests and ski slopes, and hot-water springs on mountain slopes. It has a mixture of plants and animals in a green and peaceful area, which is cool in summer and snowy in winter, making it one of Turkey's most prominent tourist places.
Which are the Places to visit in Bolu?
Seven Lakes National Park is one of Bolu's most charming places and offers with her nature, hiking, walking, camping, and stress decompression. It has seven lakes, the largest of which is Buyuk Gol, a 24,895 m² area; however, Deringol Lake is considered the deepest one, in the area at approx 25 meters.
Golcuk Lake offers a lot of space for doing various activities. The lake's surrounding has a wide variety of game zones like the miniature golf court and free play zones for children. In addition, visitors can bring their own kayak or little boats to have an enjoyable tour of the lake.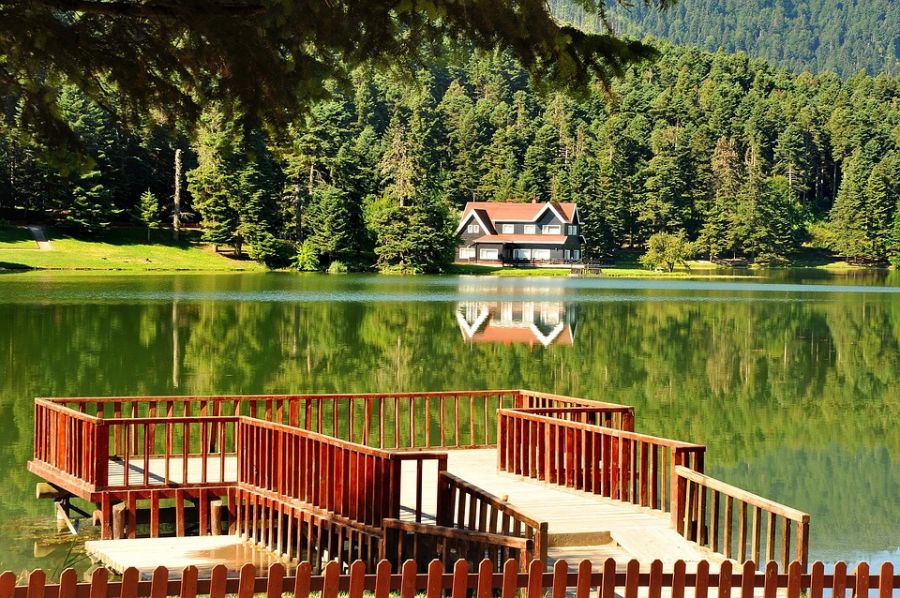 Abant Lake is 350 meters above sea level, surrounded by pine and fir trees, making it a destination for tourists who love camping. There are two hotels nearby with direct views of the lake, having the best restaurants that serve the most delicious Turkish dishes. Abant Lake turns into ice in the winter, which makes it an extra attraction for tourists, mainly those who love ice skating.
Samandere waterfall is one of Turkey's most famous waterfalls. The waterfall's area is 11,836 square feet. It is a tourist destination for those who that enjoy watching water flowing over rocks and the surrounding trees.
Ulu Cami, the mosque built around 1400 on behalf of the sultan Yildirim Beyazit. On the hill to the north of the center is a kervansaray, which traders still use. You can also relax after your walks in the area in the two old bathhouses of the city.
But there are also other attractions such as the clock tower, the old well, and the castles Asar Kalesi and Keci Kalesi. Bolu is ideal for relaxing in both summer and winter, it is a picturesque location.
What about winter tourism in Bolu?
Due to Bolu's mild temperature and its featured humid climate most of the year, it has become a destination for tourists, mainly Kartalkaya, with its 2,400 meters high peak is the highest point of the Yedi Göller or The Seven Lakes National Park, located against the densely wooded slopes of the mountain range, 40 km from Bolu's city center, one of Turkey's most famous skiing spots and is a destination for thousands of tourists searching for skiing, skating, and enjoying snow every year.
There are 30 thermal springs in the Bolu province's Seben, Goynuk, Mudurnu, Karacasu, and Taskesti districts, and the spring water is between 20 Celcius – 68 Fahrenheit and 90 Celcius – 194 Fahrenheit. In the Karacasu district, thermal spring water is used both for healing hospital patients, and hotel tourists. Mudurnu, Taskesti, and Goynuk districts, which are ancient Ottoman towns located on the Silk Road, recently built thermal facilities and time-share properties contribute to Bolu's thermal tourism. Ancient Ottoman bathhouses in Mudurnu and Goynuk districts also attract tourists.
Bolu has a serious richness in geographical location, and natural richness and uses that on a good level which gives Bolu a promising future,