As a hiking fanatic, you naturally look for a place in the world during your holiday where you can walk around for hours.
What are the best Hiking places in Turkey?
When you think of a walking holiday, you might initially think of countries such as Austria, Switzerland, or Australia, but of course, you can walk anywhere in the world, so why shouldn't you think about Turkey? We know how much travelers and the upcoming trend of backpackers like to walk during their trip and we did put together a number of routes that take you to several important cultural sites in Turkey.
Those walking routes are also easy to follow by bicycle and horse. It concerns multi-day routes that lead you, for example, past national parks or locations that are on the World Heritage List of UNESCO. Each walking route has been set up based on a theme and in this way you can also choose the route that seems most interesting to you.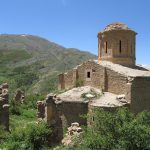 We give here our own opinion about the must-do trails, but of course, for each person, this will be different. There is a route called the 'St. Paul Trail' and another trail is called 'Carian Trail, and 'The Phrygian Way' takes you through the ancient valleys of the Phrygians. We do have the famous Lycian way and the "Kackar Route" which is a trail through the mountainous region of the Black Sea, where not only mountains, lakes, and glaciers are found, but also wolves!
The Lycian Way is the oldest and the most popular. About 500 kilometers long, it starts at Fethiye and ends in Antalya. Famous for its Mediterranean vistas, narrow goat paths, the mountainous interior, and of course the remnants of the Lycian culture that you will find scattered along the route. If you walk the entire Lycian Way, it will take you about a month. But you can always join group tours that do the most lovely places.
More than 800 kilometers long and is named after the Carians, a people who once inhabited the coastal region from Bodrum to Marmaris in southwestern Turkey. Less known than the famous Lycian Way, but just as beautiful. Here you can walk for hours without meeting other people. And here too you will discover why Turkey is more than just sun, sea, and sand.
St. Paul is 500 kilometers of marked hiking trail, inspired by the apostle Paul's first journey in Asia Minor. The route starts near Antalya in the ancient city of Perge and ends in Yalvaç northeast of Lake Eğirdir. This walking route runs on Roman roads, narrow footpaths, and forest roads. It starts at sea level and the highest routes are at 2200 meters. That makes it a rougher route than the Lycian Way. It is more pristine and because the route is less known, it is also less traveled.
The most famous heavy walking route is the ascent of the approximately 4000 m high Kaçkar mountain. Lower routes are 5-6 months suitable for hikers, but mountain peaks and routes over the high passes, unless you snowshoes used, are only suitable from July to September. There are accommodations in larger villages and many water and camping areas. The weather on the Kaçkar is usually bad with much fog, especially on the north side. Therefore check the weather forecasts before you go.
Want more hiking inspiration for Turkey? Be sure to check out our website.