In the west of Turkey you will find the lovely modern resort of Kusadasi. Kusadasi is a city for culture enthusiasts and well known for the nearby historic city of Ephesus. Is also the reason why this place is a stop place for cruise ships.
The center of Kusadasi offers narrow streets with small shops and in the more modern part you will find exclusive restaurants, shops and many 5 star hotels. Kusadasi is a bustling seaside resort with enough possibilities for everyone.
Kusadis is somewhat smaller than the other popular resorts such as Antalya, Alanya, Bodrum, and Fethiye. But is much well more known due the cruise ship destination.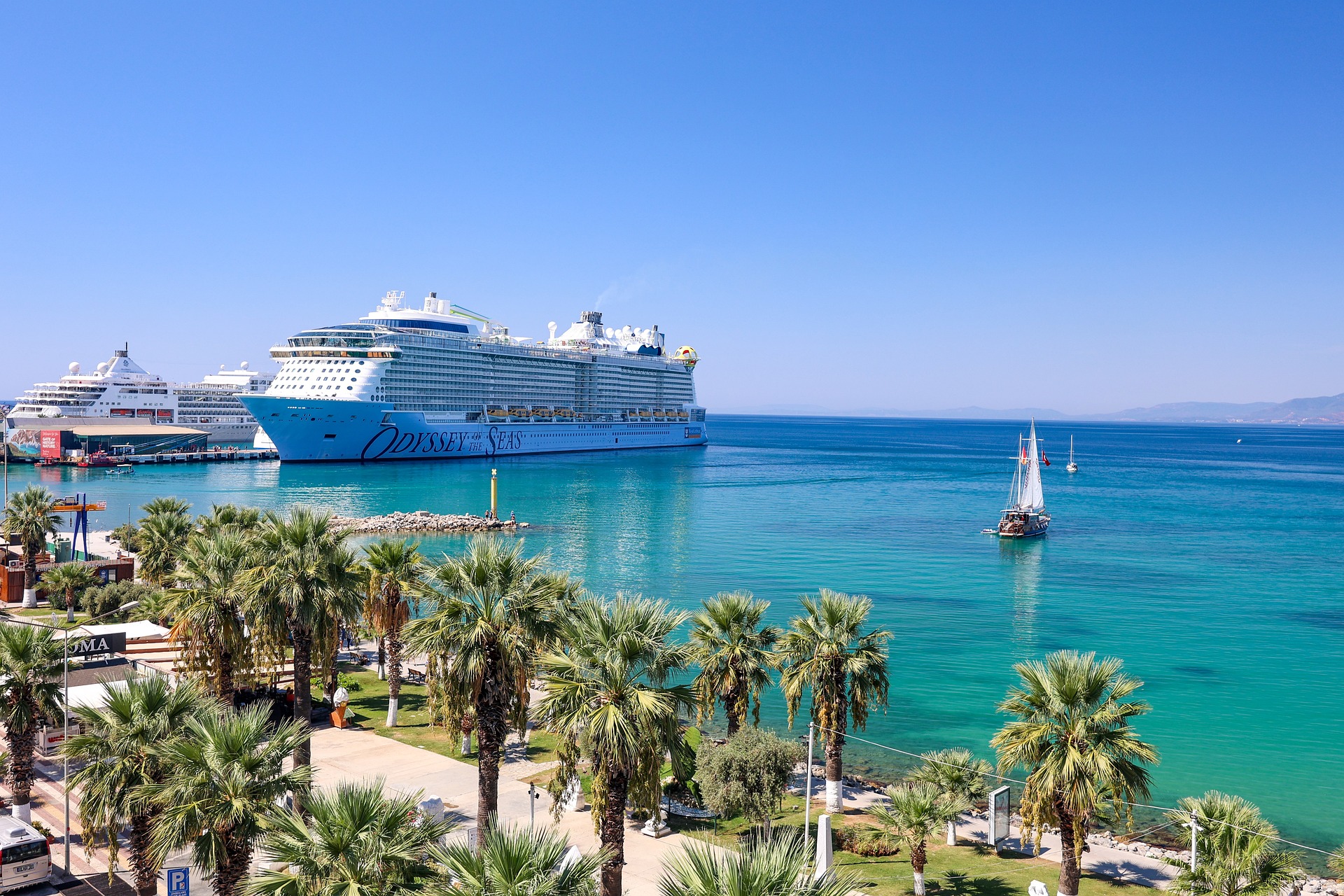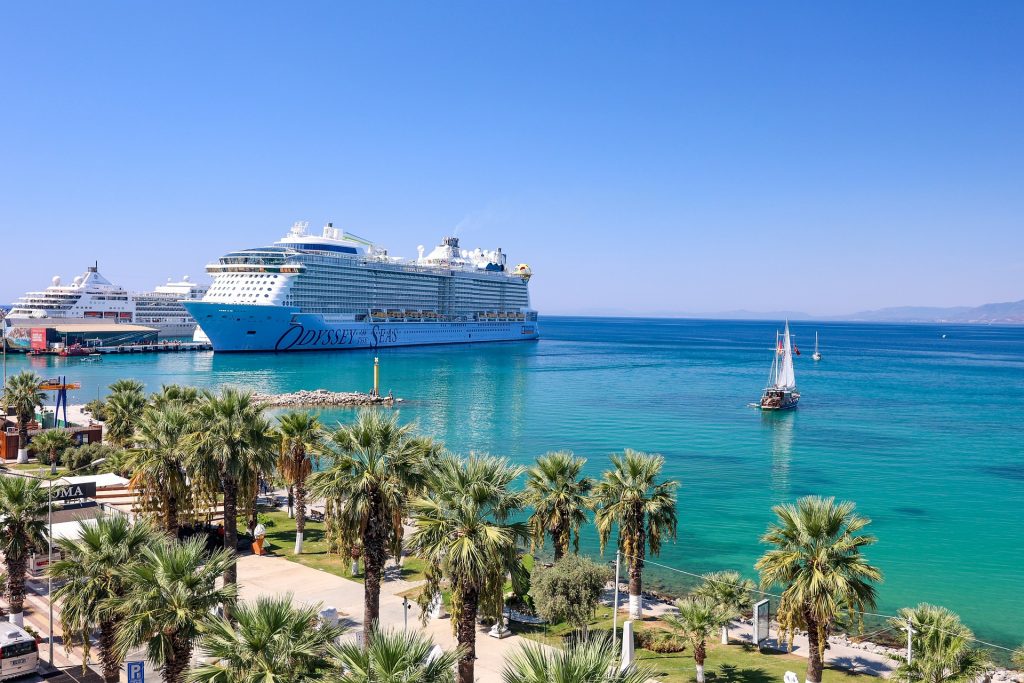 How to reach the Turkish seaside resort Kusadasi?
About 70 kilometers away from the seaside resort, is the Adnan Menderes airport of Izmir. Many tourists opt for a package tour that also includes the transfer by bus from the airport. However, you can also opt for a rental car, taxi or private transfer.
There is plenty to do for young and old in and around the Turkish seaside resort. The beach and the center are of course the main attractions, but sometimes an outing during your holiday is nice for a change. In this overview you will find all kinds of sights and fun things to do in and around Kusadasi.
Ephesus Ruins
The best preserved city from Roman times is located in Turkey near Kusadasi. The Ephesus ruins are even so well preserved that it still forms a real place and you can still experience the Roman feeling. The Ephesus ruins or Ephesus, include a large amphitheatre, fountains, a marble road and various buildings. The Ephesus ruins are easily accessible by taxi or dolmus and there is a large parking lot. This place can be visit daily with private Ephesus excursions.
Day out for the whole family; water parks
In the area you will find no fewer than four water parks. The spectacular water parks guarantee action for the whole family. The facilities and slides of the parks are well known. This is a fun outing for both children and adults.
Adaland also has a dolphinarium and a marine park. Here you can, among other things, go swimming with dolphins. A fairly pricey activity but for many people a very nice experience.
Dilek Milli Natural Park
Lovers of peace and nature can spend a day at the Dilek Milli nature park. This large nature reserve can be viewed, for example, through various excursions. You can also discover it yourself with a Dolmus, rental car, mountain bike, quad or scooter. Of course you can really come to yourself and go for a walk. The nature reserve is known as a beautiful hiking area. No tourism and crowds for a while, but beautiful nature between beautifully overgrown mountains. On the way you will see many butterflies and flowers. You can also see wild boars.
Selcuk and Sirince
North-east of Kusadasi lies the historic town of Selcuk. It is about 15 kilometers away from Kusadasi and is a place full of history. A large fortress towers high above the city. You will also find an old Roman aqueduct that is used as a home base by many storks. There are also ancient minarets and the museum of Ephesus to visit. Another attraction in Selcuk is the St. John Basilica.
You can opt for a tour through the area where you visit all kinds of historical sights. Along the way you can of course enjoy the beautiful nature. For example, you will visit the Didyma temple, the Miletus theater and the ancient city of Priene. Sirince is located near Selcuk and Ephesus. A typical Turkish mountain village with nice narrow shopping streets with different types of local products. You will also find wine tastings and beautiful views thanks to its location on a hill. The authentic village has a beautiful church and cozy terraces. Sirince is a nice destination during, for example, a tour of the area. Also accessible with a Dolmus. Handy to combine with Selcuk as there are daily excursions who give the possibility to visit both in one day.
There are 4 ways to get from Kusadasi to Pamukkale by train, bus, taxi or private transfer. If you want to visit Pamukkale in one day you do have enough options.
How far is Pamukkale from Kusadasi?
If you're traveling by land, it's important to know the distance from Kusadasi to Pamukkale. Your trip will be a total of 86 miles (138 km). The flying distance is 86 miles (138 km).
How long does it take to get from Kusadasi to Pamukkale?
The travel time from Pamukkale to Kusadasi can vary depending on the mode of transportation you choose. All things considered, the whole journey should take from 3 to 5 hours.
How much does it cost to get from Kusadasi to Pamukkale?
The cost of the trip varies according to what means of transport you choose for your journey. Between 110 TL and 130 TL.
However, if you're after more upscale travel . The most expensive variant is a taxi – and the most relaxed and affordable way is by private transfer.
How many bus trips per day are there between Kusadasi and Pamukkale?
Depending on your choice of transportation, the number of daily trips varies.
Buses between Kusadasi and Pamukkale are starting the from 11:30 AM until 11:30 Pm. There are 6 available bus trips every day.
Which transport is the best for Kusadasi to Pamukkale?
Taking a bus from Kusadasi to Pamukkale is cheaper than flying. Quite often, a long-distance bus is the cheapest transportation option. Buses normally make bathroom and/or lunch stops along the way. But as we mentioned before you can choose for daily excursions or by private transfers.
Things to remember before opting for a bus ride:
If possible, make sure to choose higher-class buses for a more comfortable travel experience. Such buses often have an air conditioning system, soft reclining seats, Wi-Fi, bathrooms, etc.
As with plane tickets, buses are better booked in advance so that you can secure a good seat.
While booking a bus, keep in mind that delays are possible. Yet it still pays to get to the bus station at least 15 minutes prior to the scheduled departure.