Every motorcyclist will agree that summer calls for unforgettable motorcycle rides. Either alone or in a group. On straight or winding coast roads close to the sea or in the amazing mountains. Motorcycle touring with your own or rented bike in Turkey or premade tours and route holidays is an experience like a few others. With such a vast country to cover, the scenery and roads are superbly varied.
When to ride a motorcycle in Turkey?
The size and geography of Turkey give climatic differences in each season of the year and parts of the country, as you can find regions in Turkey to ride all year round, but of course, generally, the best is during May and June, or in September and October. Due to the size of Turkey, the country can be divided into the 3 climatic regions.
The Aegean Sea and the Mediterranean Region: got hot summers and mild winters.
The Black Sea Region: got hot summers, mild rainy winters, and snowfalls
The Anatolian Region: Hot summers and cold winters, but nearly no rain.
What is the driving quality of the roads in Turkey?
The quality of the road surface varied in different parts of the country, making motorcycle touring in Turkey all the more interesting. The larger highways and popular tourist destinations roads are amazingly good and even better than some highways and roads in Europe. But we guess we are here to visit Turkey in all her assets and it is easy to cross the country on good quality roads, without limiting yourself to highways and toll roads, try by time as well high mountain passes or short dirt roads which are most commonly small country roads linking mountain or villages together. Keep in mind some of them can be really poor in drive quality.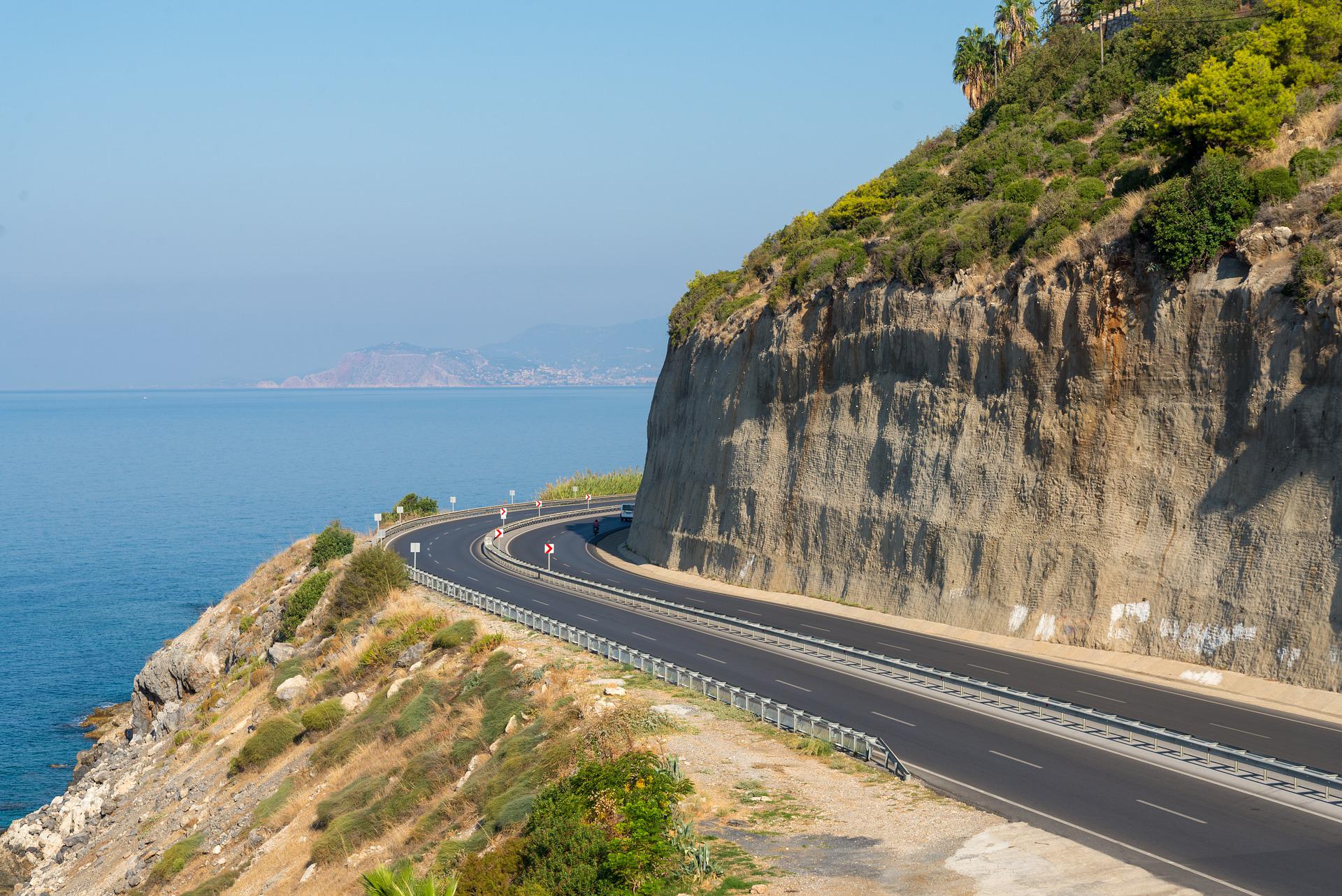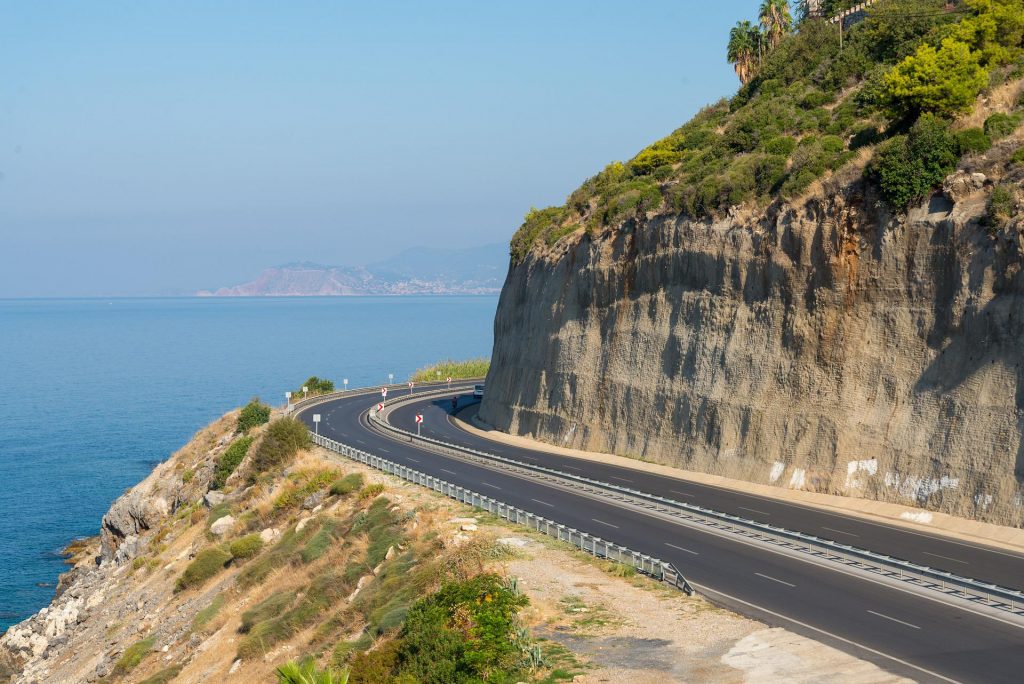 : This is a 24.1 mile= 38 km very technical road with rapid and sharp turns. The road splits the forest and the tarmac which is very good as much of the road will drive in shade. During the winter months, you need to be careful with moisture and icing.
Denizli – Mugla: This is a 90 mile = 146 km road when you come down from Pamukkale, and head down South to Bodrum. This is the road that passes the mountains and not via the city of Ayden. This is a well-paved two-lane road that has everything. Starts straight and as it goes up and down to the mountains, you will have nice corners. Almost the road goes through nice forests. With nice corners and light traffic, this will be a safe road for you to enjoy the beautiful scenery.
Bergama – Ivrindi: This is a 46.24 mile = 74 km very nice scenery mountainous road when you turn back to the north from the south is a must to choose this scenic road
D885 / D050 / D915 Trabzon – Erzurum: This is a 155mile = 250 km route through Asiatic Turkey. Starting at Trabzon on the Black Sea for Erzurum toward Gumushane. You travel through stunning mountain scenery and get to see a side of Turkey that you never have seen The mountain passes near Bozurum are stunning. The D915 Bayburt of Yolu is been Dubbed more dangerous than Bolivia's death road, this is certainly one for the adrenaline junkies. This mostly gravel road takes in 106 km of fantastic views and boasts 29 tight hairpins as it climbs to over 2000m above sea level. Weather frequently turns, and fog and rain are not uncommon.
The Shipka passes Kazanlak – Gabrovo:: This is a 31mile = 50km route lovely route at an elevation of 1100 meters, the view is amazing and pity it is a short road. The asphalt is in excellent condition but worth doing it.
Trans – Taurus: Anatolia Plateau – Mediterranean: This is a 155mile=250km must-do road. This road starts in the historic city of Konya, home of the Mevlana sect of Sufism. You head southwest from Konya to Seydisehir up into the foothills of the Taurus. Once outside Konya, the whole route is rural. There are plenty of high-speed sweepers interspersed with short straights and a few tight corners, a couple more than 180 degrees. It flattens out as you reach Seydisehir. From Seydisehir the road really starts, as you head up into the Taurus. There are hairpins, sweepers, and long straights and the road just keeps on getting better as you hit the top of the pass at 1800 meters then head down towards Manavgat. Watch out for snow in winter, when the top can be very hazardous. Lots of great views on the way down. Apart from 2 or 3 villages, the road is all rural with little traffic.
Black Sea Coast: Istanbul – Kandira: This is a 155mile=250km route with nice corners and nice rest spots for refreshments or snacks. Small fishery towns, and nice fish restaurants by the coastal line. Mostly forests, riding thru villages so be careful about cows and dogs. Some blind points might mislead your speed configuration for the corners. Do not miss the seaside spots mostly invisible by trees.
Trabzon to Savsat (D010): This 3is a 186mile = 300km route that takes you through such varied scenery throughout its countless twists and turns that you'll feel as if you've crossed several countries in one ride. Following the black sea coast before turning inland near the Georgian border, you will pass lush green tea plantations, lakes, and dusty mountains.