How do I get the fastest, cheapest easiest way to Pamukkale?
Is easy to get to Pamukkale as there are daily 4 direct flights from Istanbul Airport (IST) to Denizli Çardak (DNZ), with Turkish Airlines which is the nearest airport to Pamukkale. Denizli Çardak Airport is about 40 minutes by car from Pamukkale. You can either take a taxi or book a transfer from the airport to Pamukkale. From Denizli Airport to Pamukkale you can either book and take the Airport Shuttle Service or by Taxi.
When you travel from Cappadocia or other places you get the possibility to use the intercity busses and you get off at Denizli Bus Station. From there you take the shuttle bus direction Pamukkale. You can buy and book your ticket easily at Obilet which offers all busses from different companies and prices from all places in Turkey.
If you come from Izmir or Selçuk (Ephesus) you can achieve it by train as Turkish Railways (TCDD) operates a train from Izmir Basmane Train Station and Izmir Airport (ADB) and Selcuk (Ephesus) to Pamukkale 6 times a day. Tickets cost approximately 5 USD.
How much does the entrance fee cost for Pamukkale?
As Pamukkale is open for a full year the cost of entrance maintain always the same the entrance ticket is – 110 Turkish Lira or 7.5 USD, and swimming at Cleopatra's Ancient Pool at Pamukkale is 100 Turkish Lira or around 7 US extra. Hierapolis and Pamukkale Travertines are included in the entrance fee.
Where do we start the visit at Pamukkale?
Pamukkale got 3 entrances and it all depends on where you are. Near Karahayit you have the North Gate which is close to the Hierapolis Archaeological Site, the Town entrance is the fastest Gate to get to the Pamukkale Pools, and the South Gate is near the oldest gate of Pamukkale and the pools but is far from town and it takes a long walk. This gate is mostly used by tour buses and Taxis as this is the easiest way to Park your vehicle.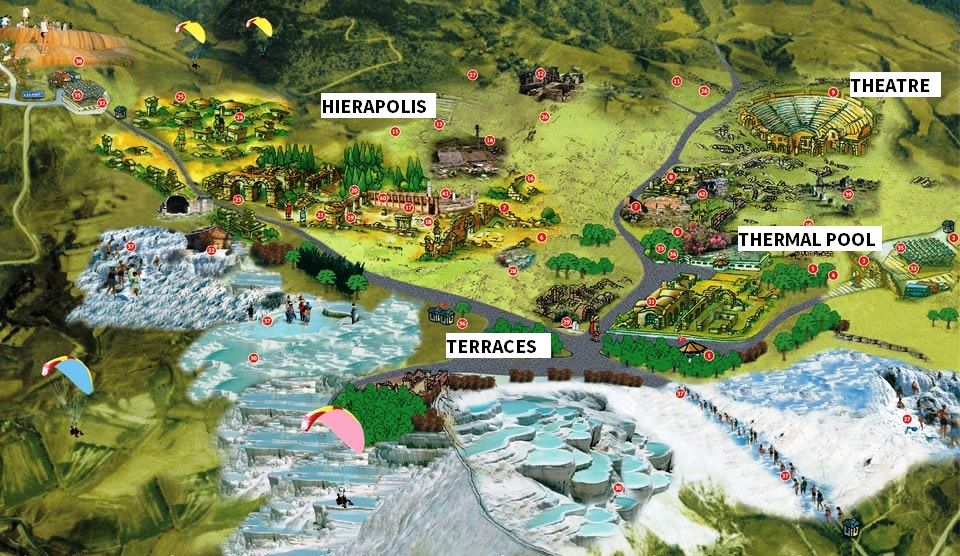 If you want to visit only the Pamukkale Travertines you do have enough a couple of hours. If you do want to visit the red thermal Springs in Karahayit, Hierapolis, Necropolis, Ancient Theatre, Hellsgate and the Travertine Pools you should better do the Pamukkale guided Pamukkale excursion, with the excursion you see it all in just 5 hours.