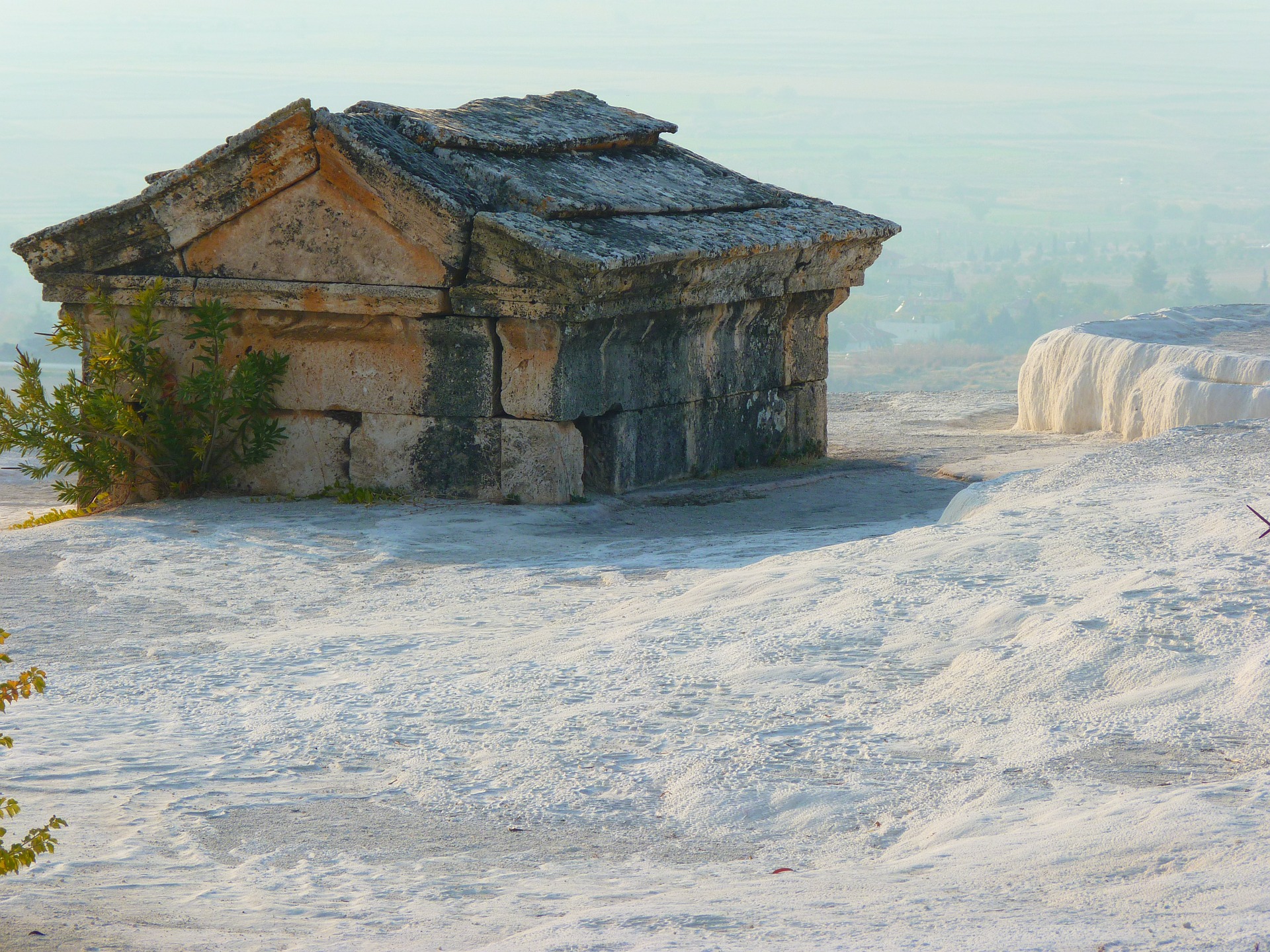 What About Pamukkale and Hierapolis Day Excursion from Kusadasi Cruise Port?
Are you interested in visiting Pamukkale but worry about the time and possibilities? Well, there is no need to worry as this full-day excursion is the ideal option for you. The Pamukkale Day Trip from Kusadasi Cruise Port gives you the opportunity to enjoy and admire the natural beauty of the Pamukkale Cotton Castle, explore an ancient city, and visit charming spots of impeccable beauty and of high importance.
The day trip begins during the early morning hours. For your own comfort, a bus will pick you up from your hotel at a pre-arranged time.
Pamukkale Day Excursion from Kusadasi Cruise Port allows you to explore 2 famous ancient sites " Necropolis & Hierapolis ". And walk over the white travertines and pools. Pamukkale is famous for its white cascades of calcium springs. There are 17 hot water springs in Pamukkale. When the hot spring waters come up to the surface, they lose the carbon dioxide in the water, and calcium bicarbonate subsides to shape the beautiful white cascades of Pamukkale. It is worth seeing a natural site, an eye candy. You can walk through Pamukkale and even find a chance to relax in the hot water of the ancient pool.
Built just above the hot spring waters of Pamukkale, Hierapolis is a mighty ancient city and one of the UNESCO World Heritage Sites. Hierapolis was built in 2. the nd century BC by the King of Pergamon and then became a Roman City. The city was famous for several important sanctuaries and also it was an important trade center. Hierapolis was famous for the purple die and cloth making as it is still famous for textile products.
Just out of the city, on the hills, you will find the place where Saint Philip was martyred. It is still unknown if Saint Philip here is Philip The Apostle or Philip the Evangelist but this crypt is believed to have remained and it is a sacred place. Hierapolis Ancient city also has a wonderful theatre which is not to be missed because it is a very well preserved Greek style theatre situated on a hillside.
What is the daily Kusadasi Cruise Port Pamukkale Excursion Tour Program?
Early Pick up from Kusadasi Cruise Port by arrival cruise ship Pamukkale Tour starts.
Drive to Karahayit to see Red Spring Water.
Visit Hierapolis and see Necropolis, Roman Baths, Domitian Gate, Latrina, Oil Factory, Frontinious Street, Agora, Byzantium Gate, Triton Fountain, Cathedral, Apollon Temple, Plutonium, Theater, Antique Pool.
Walking on the travertines and taking a swim.
Lunch in a local restaurant.
Drive back to Kusadasi Cruise Port
What to expect during the Kusadasi Cruise Port Pamukkale Guided Tour Excursion?
Visit the red thermal water springs Karahayıt Red Springs.
We will pick you up from your Cruise ship at Kusadasi Port and we drive in the direction of Pamukkale. Once arrived we will take you to see the Red Water Hot Springs in Karahayit. Here we will tell you about the Red Water and its history, and give you free time to experience its uniqueness yourself.
Visit Hierapolis the ancient city.
Our next destination will be the North Gate of Hierapolis. You will discover the history of Hierapolis. You will see the Necropolis, Baths and the Basilica, Frontinius Gate, Frontinius Street, Byzantine Gate, Latrine, the Triton Fountain, and the Temple of Apollo, the ancient theater.
Visit the Pamukkale Travertines
Then we will enter the Cleopatra pool, where Cleopatra has taken her beauty and our guide will provide you with free time to swim and take photographs. In the Cleopatra pool, you will be able to swim if you pay an extra fee., After the Cleopatra Pool, we go in the direction of the Travertines, one of the most famous places. We will bring you together with the calcium-formed white cliffs that are described as the largest unique white paradise in the world. You will be able to spend an hour freely on the Travertines. Enjoy the combination of naturally formed white cliffs and hot water ponds here
At the end of the tour, we will go to a stylish local restaurant where we will have a delicious meal with a large open buffet. After the meal, we will drive back to Kusadasi Port to drop you off at your cruise ship.
What is included and excluded During the Kusadasi Cruise Port Pamukkale Daily Guided Excursion?
Included:
Entrance Fee
All sightseeing mentioned in the itinerary
English Tour Guide
Excursion Transfers
Hotel pick-up and drop-off transfers
Lunch without Beverages
Excluded:
Entrance for swimming in Cleopatra Pool
Beverages
Airport Transfer
Denizli Bus Station Transfer
Pamukkale Airport Service
Pamukkale Hot Air Balloon
Pamukkale Wine Caves with Sunset Dinner Tour
What to see during the Kusadasi Cruise Port Pamukkale Daily Guided Excursion?